Regular price
Rs. 3,486.00 INR
Regular price
Sale price
Rs. 3,486.00 INR
Unit price
per
Sale
Sold out
Kalyankam- A Special Prash for Children's overall well being. It is a holistic and traditional way to keep our kids healthy in their physical, mental, and emotional development.
Made from handpicked organic herbs, fruits, and nuts, Kalyankam is a nutritious and delicious blend that will fuel your child's vitality and promote their overall health. 
Factors Influence Children's Growth & Development

The early years of a child are like the foundational stone of the building, and they decide upon their health and wellness when they become adults or grown-ups. The values inculcated in children at younger ages decide what they become when they grow up to be older. Similarly, the nutrients and elements that are given to children at small age help their bodies a lot in fighting diseases and staying healthy, in childhood as well as after they grow up.

Children often face cough, cold, runny nose, or other such problems, especially with weather changes or in winter. This must not stop them from playing or going to school. Sometimes, parents wish to leave out the hassle of going to the doctor to get the best medicines for their children's growth and other problems and take advice from the chemists, who give them syrups filled with added sweeteners and taste enhancers.

Other times, doctors or medical practitioners recommend medicines which have added colour, and flavour and are more of toffees or juices for the children than effective medications. Even if the doctor gives some true medications, the possibility that children will consume that easily is quite less.
Kalyankam – Perfect Ayurvedic Solution That Your Child's Health Need

Kalyankam Prash for children comes in the form of a jam, which the children most like to eat. It has no added artificial sweetener, colour or flavour, and is a natural ayurvedic prash, which is consumed by the children happily. When consumed regularly, this immunity booster for kids helps the children in fighting against the diseases or everyday bacteria and viruses, which they may encounter at their school or on playgrounds.

The dose of Kalyankam is much more beneficial than any other medication or syrup, and it strengthens the immunity of the inner and helps it make them prepared for any such problems in childhood, as well as in their older ages. Kalyankam consists of the best herbs for children and strengthens immunity, prevents seasonal allergy, improves digestion and appetite, and facilitates the overall development of the growth, height and brain.

Major Health Benefits of Taking Kalyankam

Mentioned below are the key benefits of consuming the Kalyankam – The best formulation for immunity booster for kids:   BUILD IMMUNITY

Kalyankam is a rich source of the best organic herbs for children such as amla, vidang, trifla and is an amazing source of Vitamin C and calcium that strengthens the bones and the overall body. It helps the children stay safe from diseases and fight against them. 

SAFEGUARDS CHILDREN FROM SEASONAL ALLERGIES

Children are the first ones to catch a cold or cough when the season changes. They get sick with fever and flu more often than you do. With the regular dosage of Kalyankam, you can ensure that your child's body is strong and prepared to bear the changes the season brings with itself.  

ENHANCES OVERALL HEIGHT AND GROWTH

Children often are unable to intake the nutrients and vitamins that are essential for the growth and development of their bodies. Kalyankam comes with the goodness of all the best herbs for children, essential nutrients and Amla (which is rich in Vitamin C) your child needs to enhance their overall height and growth.  

PREVENTS VIRAL INFECTIONS

Different types of harmful viruses and bacteria often cause trouble such as viral fever in children. To prevent this, it should be ensured that the child's body is capable of fighting against the harmful virus, bacteria and fungi etc. Kalyankam is an immunity booster for kids that strengthens the bodily systems to ensure that. 

IMPROVES DIGESTION AND APPETITE

Does your child eat very less or face digestive problems such as constipation or diarrhoea? These problems are quite common in all children, and they are unable to get adequate fibre and vitamins in their diet because of which these problems occur. The ingredients like dhaniya, jeera, chitrak present in Kalyankam helps the child by improving their appetite as well as digestion so that they can take proper food intake and digest it properly. It is a herbal supplement for kids that they must consume every day.  

TASTY JAM FOR KIDS

Kalyankam is just like a jam for the children, which they will love eating. It is easy to give them the dose of Kalyankam every day and inculcating this habit into
Why Kalyankam is Preferred Choice For Children?

VEGETARIAN FRIENDLY

Kalyankam is completely vegetarian. It is made out of the most authentic natural herbs and plants. It is suitable for every kids to consume and is the best prash for children. 


GLUTEN-FREE

Kalyankam is completely Gluten-free and the best ayurvedic super food for Child. It is made of gluten-free elements to ensure its purity and ease of digestion for the Kids.

SOY FREE

Kalyankam Special Prash for Children is free of soybeans and their by-products. This makes it consumable for people with dietary allergies and removes the chances of allergic problems like acne, asthma, eczema, etc.

NO ADDED COLOR OR FLAVOR

Added colour or flavor is used in products often to enhance the look of a product and is often harmful to a person. We guarantee that our products are completely free of added color or flavor in any form.

NO ARTIFICIAL PRESERVATIVES

To increase the shelf-life of a product, companies often add synthetic preservatives to those that are very harmful. The Kalyankam by Deep Ayurveda has no added artificial preservatives, which makes it natural and harmless, and a natural immunity booster for Children

NO ARTIFICIAL SWEETENER

Kalyankam is 100%  made with organic jaggery and no artificial sweetener added, But today most of the similar product available in market even by big companies are made with artificial sweetener like aspartame, saccharin, acesulfame-K [E950], neotame, sucralose [E955]) and advantame etc. You know these artificial are very much harmful for our health and specially for growing children. Study published in many international journals shown that these artificial sweeteners are carcinogenic and even can be cause of neurological disorder even.

NO CHEMICAL OR UN NATURAL SUBSTANCE

There is no chemical or un natural substance and its Completely Natural – Kalyankam Ayurvedic Prash is curated with years of research and the hard work of our ayurvedic experts and scientist. We aimed to ensure that only the most authentic organic ingredients are used to make it completely natural. 
Kalyankam Production Process

Important Facts To Know:

Clinical Reference by Ayurveda Experts : Kalyankam  prash is formulated after research, and references taken from Different Ayurvedic texts like Ashtang haridyam, Charak samhita.
Traditionally Made with 5 Elements: Kalyankam made with proper traditional method and with the concept of 5 elements (Akash, Vayu, Agni, Jal, and Prithavi)..
100% Natural healthy formulation: It works naturally and provides multiple health benefits. The 1 teaspoon of Prash contains all the essential nutrients which are necessary for body in fighting with the seasonal changes.
Tridosha Balances: Formulated in such a way that it can be taken by any child and helps in balancing the tridosha (Vata, Pitta, and Kapha) naturally. This  prash came under the category of Rasayana (रसायन). It comprises two words – 'Rasa' – Nutrient fluid, 'Ayana' – means a way.
Rasayana is defined as a therapeutic measure which promotes longevity, provides positive health and mental faculties, increases memory, boosts immunity, prevents aging, provides essential nutrients to the body, helps in the rejuvenation and provides multiple health benefits to an individual.
Recommended Daily Dosage of Kalyankam?

For best results, give one spoon of Kalyankam ayurvedic rasayan for kids in the morning, and one in the evening. Give it with milk to facilitate enhanced nourishment and growth. Ensure that the child does not drink cold water immediately after consuming the prash.

In case of cough/cold, give a spoon of Kalyankam with warm water or warm milk for the most effective results.
View full details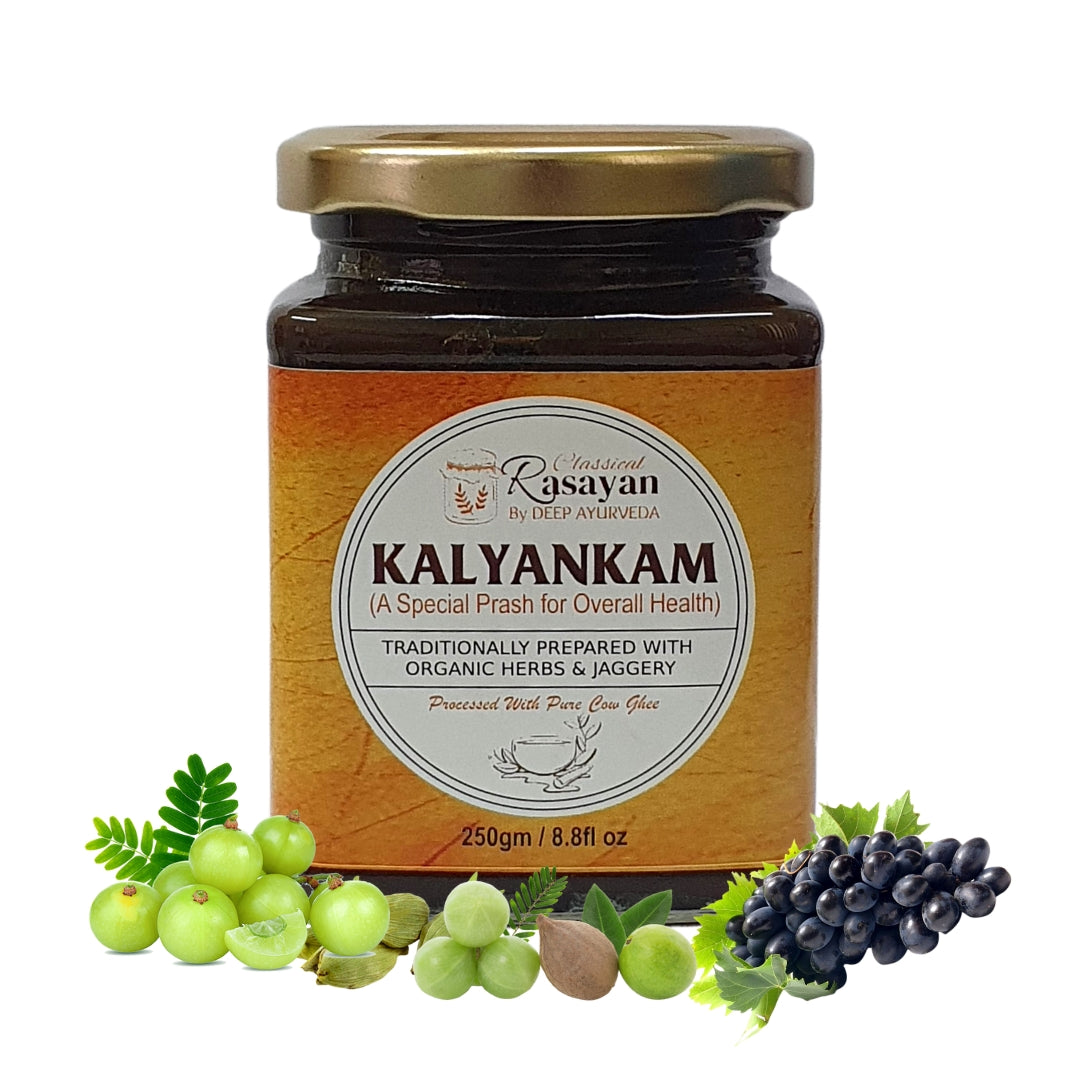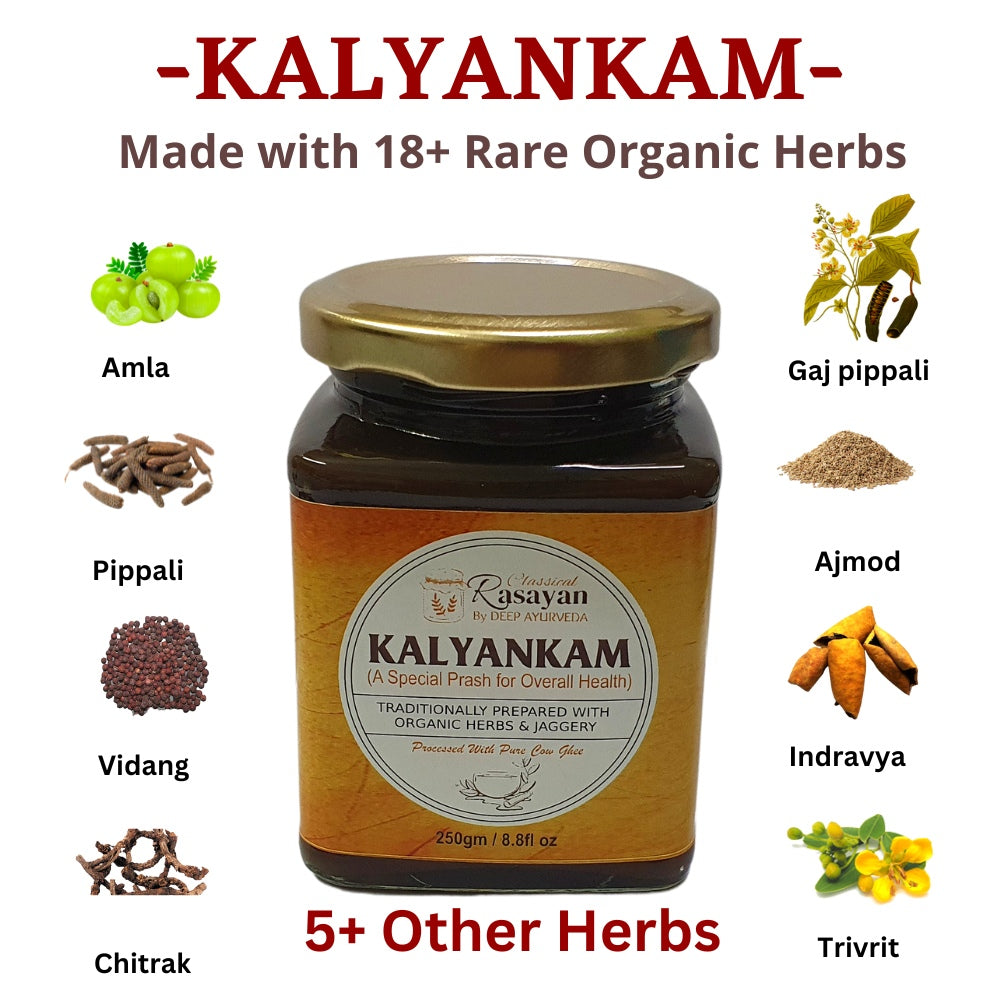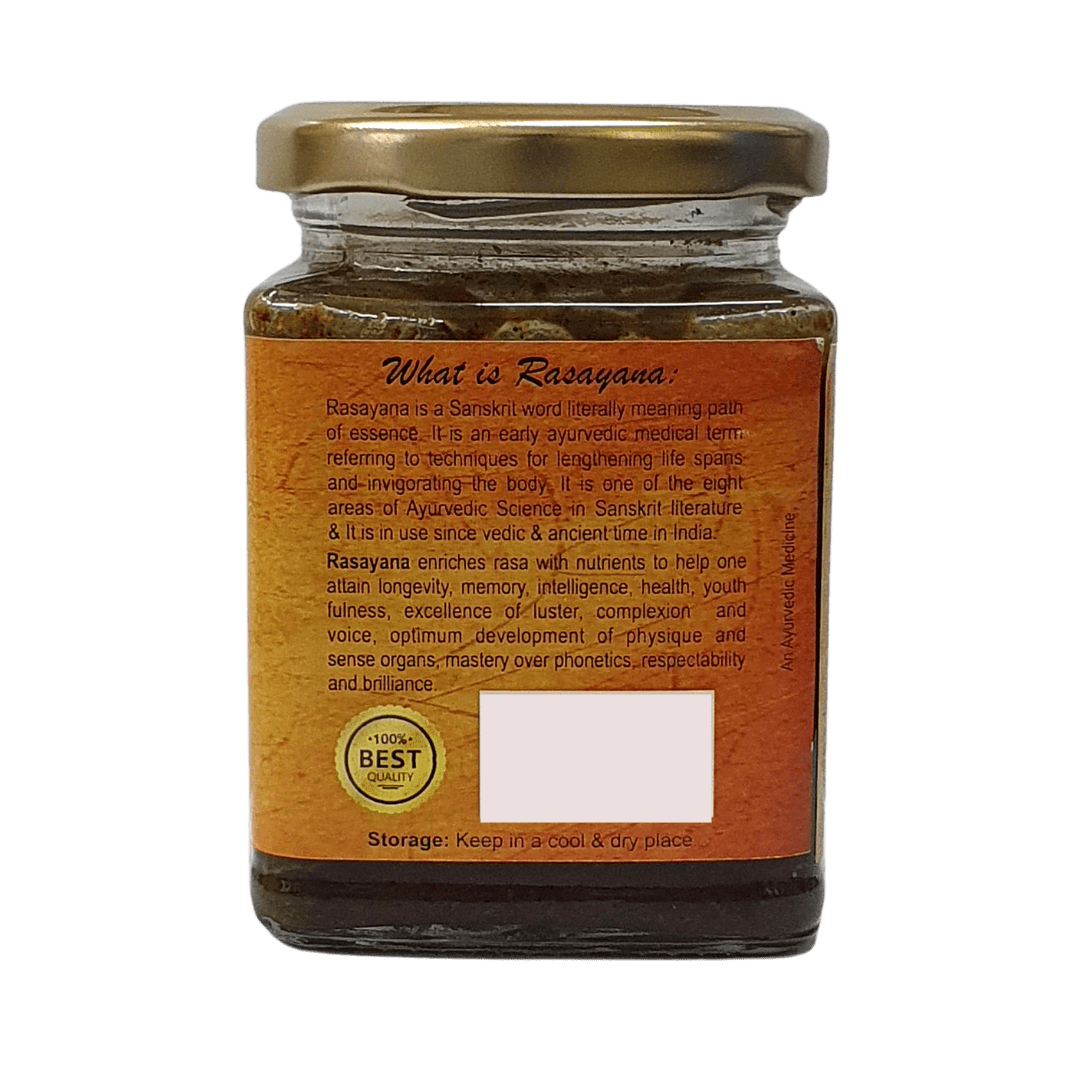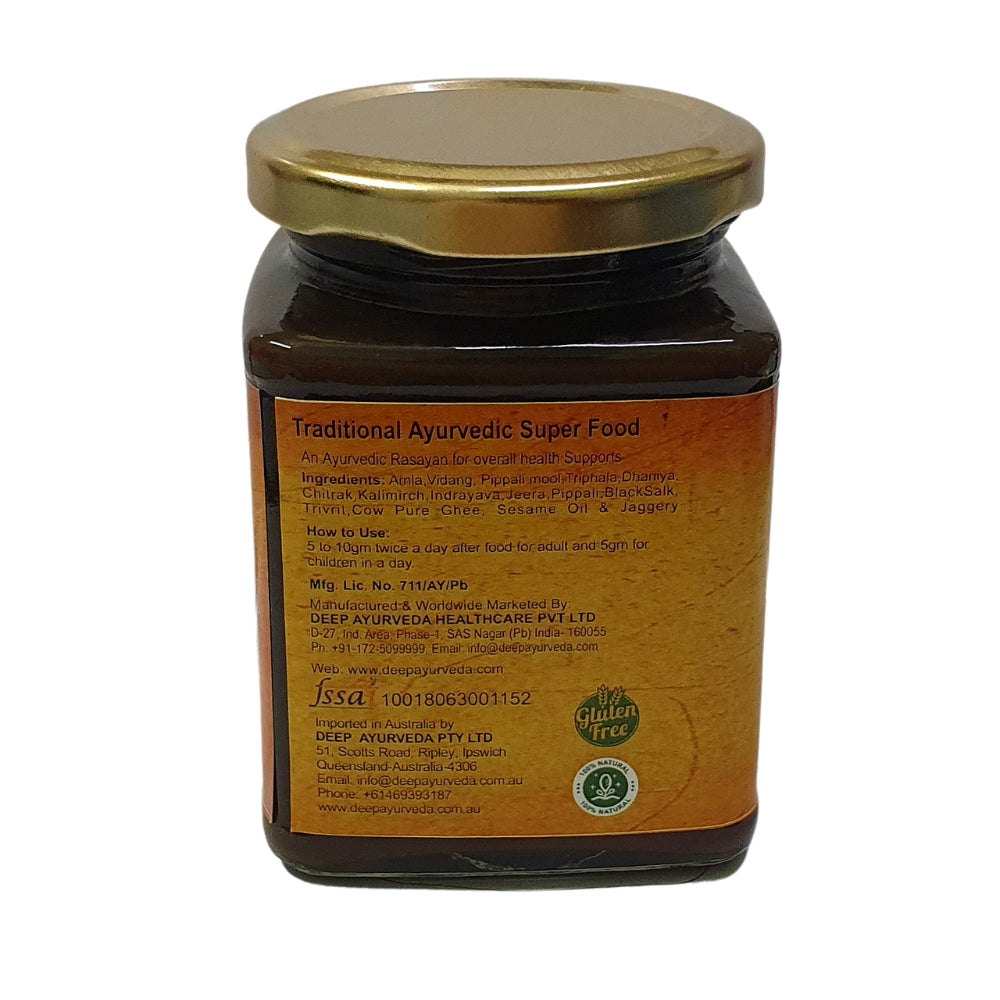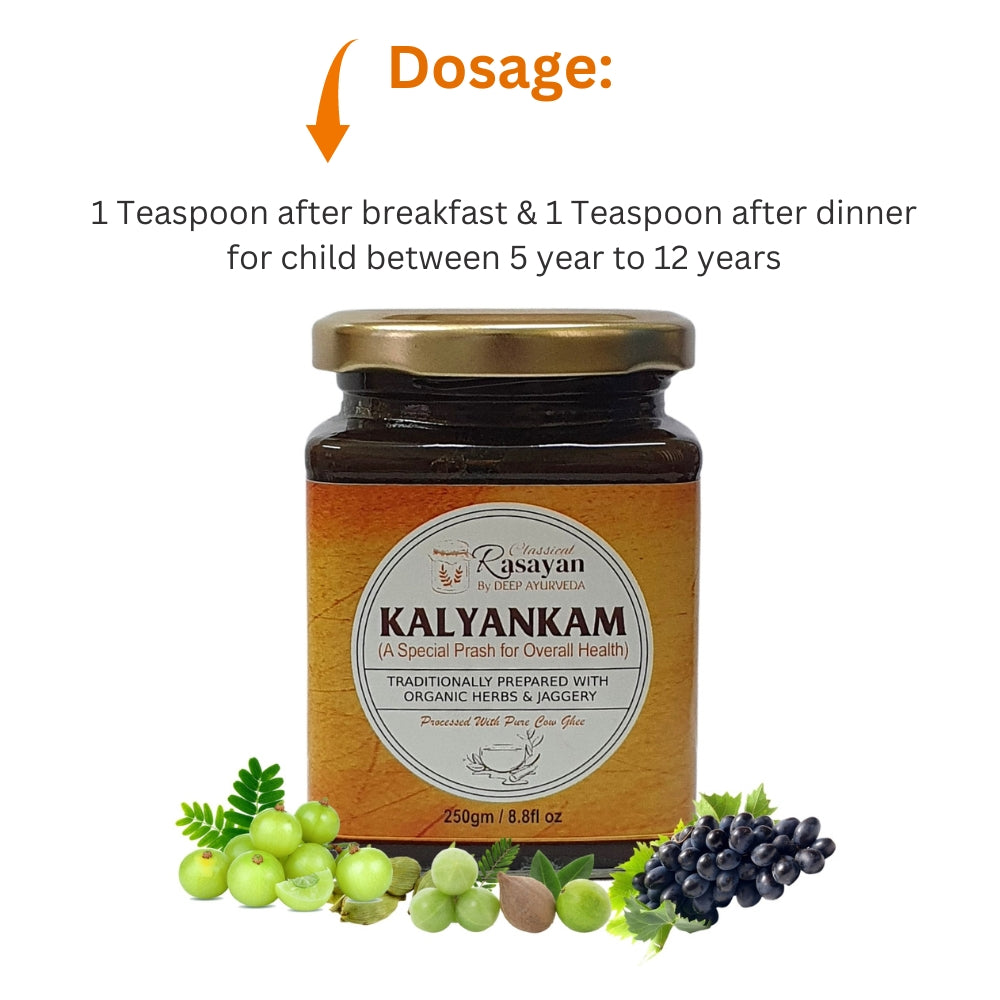 Taste not good
Taste bitter my Daughter didn't like the taste
Classy Product
I purchased this product for my child and I have no complaints.
Value For Money
Highly recommended for childrens
Good
Kalyankam works well for kids. Didn't badly impacted my kids health...
Good For Children
Best for child nutrition health.