Regular price
Rs. 5,046.00 INR
Regular price
Sale price
Rs. 5,046.00 INR
Unit price
per
Sale
Sold out
Vajayu Ayurvedic Superfood for men's Health specially formulated with 30+ vital herbs for male. It help to boost stamina, strength, vitality, and overall performance. This Traditional Ayurvedic formula aims to address common concerns related to men's health, by reducing performance anxiety and enhancing performance. It provides essential nutrients and phytochemicals that not only enhance physical stamina but also contribute to overall well-being. Incorporating Vajayu Prash into a daily routine can support men in achieving optimal vitality, confidence, and personal satisfaction.
Key Benefits of this Vajayu Ayurvedic Superfood:

✅ Helps to Increase stamina and vitality
✅ It helps to improve desire and performance in male
✅ Vajayu Prash helps in Prevention of common men's health issues
✅ Useful in Reduction of performance anxiety
✅ Helps to boost in testosterone levels
✅ Vajayu Help to Improve immune function
✅ Helps to reduce of stress and discomfort during activities
✅ Helps to Decrease fatigue and exhaustion
✅ Helps in Overall health maintenance and achievement of fitness goal 
Vajayu-50 Prash- Superfood for Men's Health

Vajayu-50 Prash for Men's Personal Health

In the earlier times, mentioned in the Vedas, the Rishi Munis used to prepare a paste called Leham, from the best elements and herbs to cure the multiple problems of human beings. The ingredients of Vajayu-50 such as the kaunch beej, vidarikand, shiljait, gokshur are highly useful and effective herbs that made it the best ayurvedic supplement for male's health. With many years of research and development, the Ayurvedic practitioners at Deep Ayurveda have devised the accurate ayurvedic formulation of Vajayu-50 prash for men's, which is recommended as the best ayurvedic solution to keep the men's healthy and if any one suffering any  men's related disease then it will work great for that.

Factors Affecting Male Personal Health

Multiple factors including ageing can deteriorate the potency, virility, stamina after 50 in men's life. The reason for this can be found in their daily lifestyle, which includes the food they eat and the physical activity they do.

After the age of 50, most men require a supplement to help improve their physical health and performance. There are many chemical based pills or capsule available in the market which help to increase the males health and show temporary results.
Why Vajayu-50 Prash is Best for Male ?

Vajayu-50 Prash is considered the best solution to manage male personal problems due to its unique and potent formulation. Here are a few reasons why it stands out:

1. Natural ingredients: Vajayu-50 Prash is made using a blend of 30+ natural organic herbs that have been traditionally used in ayurveda for their medicinal properties. This makes it a safe and reliable option for managing male personal problems.

2. Enhances stamina and energy: With regular use, Vajayu-50 Prash helps improve overall stamina and energy levels. Vajayu can be beneficial for managing problems like premature ejaculation and low endurance during personal activity.

3. Aphrodisiac properties: The ingredients in Vajayu Ayurvedic Superfood have aphrodisiac properties, which means they promote desire and improve performance. This is particularly beneficial for managing problems like low desire and ED & PE.

4. Boosts testosterone levels: Testosterone is the primary male hor mone, and its deficiency can lead to various personal problems. Vajayu-50 Prash contains ingredients that help boost testosterone levels naturally, addressing issues like low energy, reduced muscle mass, and mood disturbances.

5. Improves overall health: Vajayu-50 Prash has a holistic approach to male personal problems by improving overall health. It helps in increasing blood flow to the organ, promoting stronger and longer-lasting erections. It also enhances count and quality, which can be beneficial for those facing fer tility issues.

6. No side effects: Vajayu-50 Prash is made from natural ingredients and does not contain any harmful chemicals or additives. This ensures that it does not cause any adverse side effects and is safe for long-term use.

7. Convenient and easy to use: Vajayu-50 Ayurvedic Prash comes in the form of a tasty and easy-to-consume prash (jam). It can be taken directly or mixed with a glass of milk. This makes it convenient to incorporate into your daily routine.

Benefits of VAJAYU-50

Mentioned below are the key benefits Men's can witness if they consume Vajayu-50 Prash regularly

HELP TO INCREASE STRENGTH & ENERGY
HELP TO REMOVE PERFORMANCE ANXIETY
HELP TO INCREASE TESTOSTERONE LEVEL.
HELP TO INCREASE STAMINA AND MEN'S HEALTH
GOOD IN TASTE FOR DAILY USE
Why You Trust on Vajayu-50 Prash ?

VEGETARIAN & DIA - BETIC FRIENDLY

Vajayu-50 Prash is completely a natural superfood for male. It is made out of the most authentic natural herbs and plants. It is suitable for every person to consume and is the best ayurvedic prash for men's health

GLUTEN-FREE

Vajayu-50 Prash is completely Gluten-free and the Best ayurvedic super food for male. It is made of gluten-free elements to ensure its purity and ease of digestion for the male.

SOY FREE

Vajayu-50 Prash is free of soybeans and their by-products.

NO ADDED COLOR OR FLAVOR

Added colour or flavor is used in products often to enhance the look of a product and is often harmful to a person. We guarantee that our products are completely free of added color or flavor in any form.

NO ARTIFICIAL PRESERVATIVES

To increase the shelf-life of a product, companies often add synthetic preservatives to those that are very harmful. The Vajayu-50 Prash by Deep Ayurveda has no added artificial preservatives, which makes it natural and harmless, and a best ayurvedic superfood for male.

NO ARTIFICIAL SWEETENER

Vajayu-50 Superfood is 100%  made with organic jaggery and raw honey, no artificial sweetener added, But today most of the similar product available in market even by big companies are made with artificial sweetener like aspartame, saccharin, acesulfame-K [E950], neotame, sucralose [E955]) and advantame etc. You know these artificial are very much harmful for our health and specially for growing children. Study published in many international journals shown that these artificial sweeteners are carcinogenic and even can be cause of neurological disorder.

NO CHEMICAL OR UN NATURAL SUBSTANCE

Vajayu-50 Prash is curated with years of research and the hard work of our ayurvedic experts and scientist. We aimed to ensure that only the most authentic organic ingredients are used to make it completely natural.
Ingredients of Vajayu-50 Superfood

Key Ingredients of Vajayu-50 Ayurvedic Superfood:

Amla (Emblica officinalis)
Safed Musli( Chlorophytum borivilianum)
Aswangandha (Withania somnifera)
Shatavari (Asparagus racemosus) 
Vidarikand (Pueraria tuberosa)
Gokshura (Tribulus terrestris)
Sonth (Zingiber officinale)
Shilajit (sphaltum Punjabianum)
Mulethi (Glycyrrhiza glabra)
Salab Mishri (Orchis latifolia)
Vanshlochna (Bambusa atundinacea )
Elaichi (Elettaria cardamomum)
Tejpatra (Cinnamomum tamala)
Brahmi( Bacopa monnieri)
Talmakhana (Asterazantha longifolia)
Jaiphal (Myristica fragrance)
Dalchini (Cinnamomum zeylanica)
Pippali ( Piper longum)
Marich (Piper nigrum)
Laung (Syzygium aromaticum)
Pippali (Piper longum)
Javitri (Myristica fragrams)
Nagkeshar (Mesua ferrea)
Swaran Bhasam Purified Gold Dust)
Kesar (Crocus sativus )
Chuwara (Phoenix dactylifera )
Raw Honey (Apis mellifera )
Pure Ghee (Clarified butter) 
Til Oil (Sesaman indicum)
Jaggery (Gud) (Saccharum Officinarum )
Purified Water (Dihydrogen monoxide )
VAJAYU-50 Prash Production Process

Importantfacts to know:

Clinical Reference by Ayurveda Experts : Ayurvedic Superfoo Range is formulated after research, and references taken from Different Ayurvedic texts like Ashtang haridyam, Charak samhita.
Traditionally Made with 5 Elements: Vajayu-50 made with proper traditional method and with the concept of 5 elements (Akash, Vayu, Agni, Jal, and Prithavi)..
100% Natural healthy formulation: It works naturally and provides multiple health benefits. The 1 teaspoon of Prash contains all the essential nutrients which are necessary for body in fighting with the seasonal changes.

Tridosha Balances:  Formulated in such a way that it can be taken by any female and helps in balancing the tridosha (Vata, Pitta, and Kapha) naturally. This  prash came under the category of Rasayana (रसायन). It comprises two words – 'Rasa' – Nutrient fluid, 'Ayana' – means a way.
Rasayana is defined as a therapeutic measure which promotes longevity, provides positive health and mental faculties, increases memory, boosts immunity, prevents aging, provides essential nutrients to the body, helps in the rejuvenation and provides multiple health benefits to an individual.
Prash range is rich with organic herbs which has anti-inflammatory, anti-oxidants, anti-bacterial, anti-biotic, immunity booster properties and are formulated by pure ghee, organic honey & Jaggery.
Care Instructions

For best results, take one spoon of Vajayu-50 ayurvedic rasayan in the morning after breakfast, and one teaspoon at night after dinner to facilitate enhanced nourishment of mind, body and soul. Ensure that you does not drink cold water immediately after consuming the prash.

Vajayu-50 has no side effects. It can be taken by any adult man who wants to keep their life healthy and happy.
Shipping to Your Place.

Standard shipping time in the Generally takes anywhere between 5-7 business days,
View full details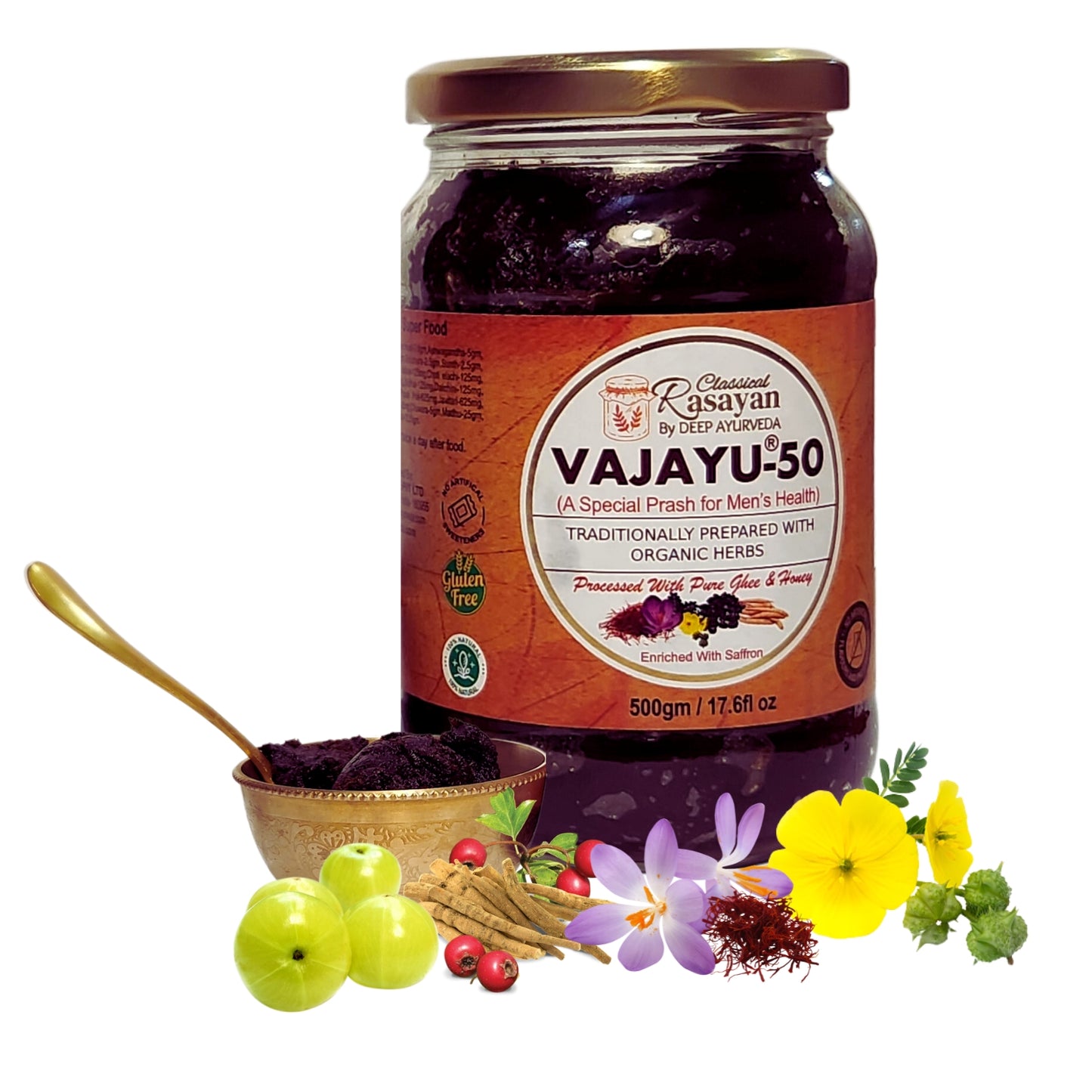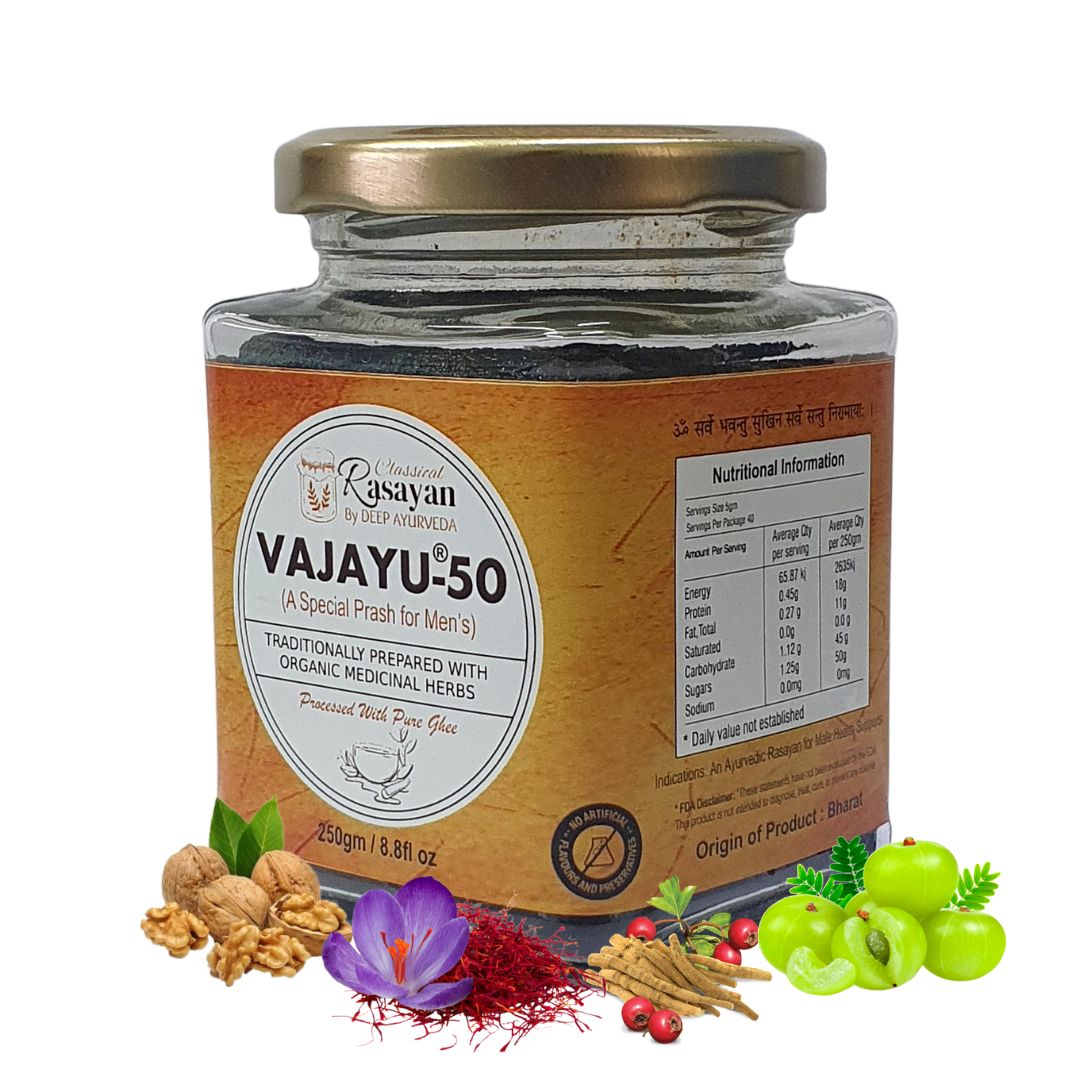 See What Our Co-Founder Says About Vajayu Prash...
It's real boost, strength, energy & Stamina.
I have been using this product for the past 10 days, and I got positive result as I expected, thank you VAJAYU@50.
Thanks for your sincere feedback. You can take it at least for 3 month. For more information or free Doctor Consultation please WhatsApp us at 070870-38065
Thanks for your sincere feedback. You can take it at least for 3 month. For more information or free Doctor Consultation please WhatsApp us at 070870-38065
Thanks for your sincere feedback. You can take it at least for 3 month. For more information or free Doctor Consultation please WhatsApp us at 070870-38065
Thanks for your sincere feedback. You can take it at least for 3 month. For more information or free Doctor Consultation please WhatsApp us at 070870-38065