Regular price
Rs. 3,486.00 INR
Regular price
Sale price
Rs. 3,486.00 INR
Unit price
per
Sale
Sold out
Ashwprash is the best super food for old age health and and a powerful aphrodisiac and nervine tonic to rejuvenate the mind, body and soul. This traditionally prepared formula is an idle ayurvedic superfood for old age men and women, filled with the goodness of pure ghee and organic jaggery and suits the tastebuds of the old ages people as well young. It is a highly beneficial rasayan for old ages, which helps balance the Trishodas in the individuals.

Ashwprash is an adaptogen which helps you cope with everyday stress and anxiety, while also keeping you energetic for new challenges. It is brimming with Ashwagandha and other vital herbs such as anantmool, draksha, elaichi, etc., which maintain the human digestive system and boost immunity in an individual.
Impact of Unhealthy Diet and Lifestyle on Immune System

Whether in a child or an adult, malnutrition is quite prevalent today. This is not because they do not get to eat or they eat less, but what they eat is not nutritious or highly beneficial to the body. Often, their diet and intake miss out on the essential elements which are responsible for providing the required strength to the body. As a result, the body becomes incapable of fighting diseases and disease-causing pathogens.

Pathogens such as viruses, bacteria, fungi etc., enter the body and start affecting the cells, causing seasonal cough, cold, flu and other serious diseases. From children to adults and elderly people, all are affected by these diseases and ailments, as their body is unable to fight. The main cause of this is a weak immune system, which is caused by a lack of healthy nutrients in the body.

In such circumstances, the body demands healthy and healing ingredients, which can provide the requisite strength and wellness to the body, along with the power to fight diseases. The best is to consume ayurvedic herbs for weakness, strength and durability.
Ashwprash – Perfect Classical Formulation for General Well-Being:

Ashwprash by Deep Ayurveda is an ayurveda superfood for men and women rich in the goodness of Ashwagandha and other essential herbs for the well-being and endurance of the human body. It is an impressive and efficacious aphrodisiac and nervine tonic. Rich in antioxidants, the Ashwprash lehyam is highly effective in increasing energy, reducing fatigue and improving the muscle strength and stamina of the individual.

Considering the ill-abled bodies of today, Ashwprash has been formulated with all the essential ingredients which provide energy and endurance to the human body for everyday activities. This keeps you protected from diseases and aids in enhancing muscle mass and strength. It is an energy and strength enhancer and is well-known as the best immunity-booster herb in Ayurveda.

A daily dose of Ashwprash taken by the children and the adults keeps the whole family healthy and safe. It is formulated by the rasayana herbs that is a natural immunity-booster and energy enhancer, and the best super food for women's health too.
Why Made You Choose Ashwprash Over Other Products?

VEGETARIAN FRIENDLY

Ashwprash is completely vegetarian. It is made out of the most authentic natural herbs and plants. It is suitable for every person to consume.

GLUTEN-FREE

We ensure that our products come with no side effects for the consumer. Therefore, unlike all other Chawanprash, our Ashwprash is completely Gluten-free. It is made of gluten-free elements to ensure its purity and ease of digestion for the consumer

SOY FREE

 Ashwprash is free of soybeans and their by-products. This makes it consumable for people with dietary allergies and removes the chances of allergic problems like acne, asthma, eczema, etc.

NO ADDED COLOR OR FLAVOR

Added colour or flavor is used in products often to enhance the look of a product and is often harmful to a person. We guarantee that our products are completely free of added color or flavor in any form.

NO ARTIFICIAL PRESERVATIVES

To increase the shelf-life of a product, companies often add synthetic preservatives to those that are very harmful. The Ashwprash by Deep Ayurveda has no added artificial preservatives, which makes it natural and harmless.

NO ARTIFICIAL SWEETENER

AshwPrash is 100%  made with organic jaggery and no artificial sweetener added, But Most of the similar product available in market even by big companies are made with artificial sweetener like aspartame, saccharin, acesulfame-K [E950], neotame, sucralose [E955]) and advantame etc. You know these artificial are very much harmful for our health and specially for growing children. Study published in many international journals shown that these artificial sweeteners are carcinogenic and even can be cause of neurological disorder even.

NO CHEMICAL OR UN NATURAL SUBSTANCE

There is no chemical or un natural substance and its Completely Natural- Ashwprash is curated with years of research and the hard work of our ayurvedic experts and scientist. We aimed to ensure that only the most authentic organic ingredients are used to make it completely natural. 
Get to know the detail about each ingredient of Ashwprash

All over India Shipping by courier and cash on delivery also available.

International Shipping by DHL Express
Benefits of Ashwprash That One Can Achieve With Consistent Use

Below are the benefits of consuming the propitious Ashwprash ayurveda super food for men and women regularly, for the children as well as the adults.

Improves athletic performance– Ashwagandha works to enhance the physical performance of an individual and improves oxygen use and supply during exercise. By facilitating more strength to the body, Ashwprash helps an individual conduct better exercise. It helps the athletes and adults consume more exercise, which enhances the health of lungs and the heart.
Enhances muscle strength– The immunity booster ayurvedic herbs and ingredients in Ashwprash such as Jaggery, Ashwagandha, Draksha etc. help improve the muscle strength of an individual. This enhances metabolism, and keeps the body fit and healthy.
Helpful in mental health conditions– Ashwprash improves mental health of an individual and manages conditions relating to mental health such as stress, anxiety, depression etc. When taken regularly for a long time, it can also eliminate the possibility of problems such as bipolar disorder, schizophrenia and other such ailments.
Boosts Immunity– Ashwprash is rich in amino actives, lipids, nucleic acids, peptides and other biologically active substances, which helps improve the body's immune system. It helps fight seasonal infections and flus, and treats viral infection and other symptoms of cough and cold, etc. It is an essential immunomodulatory agent, which boosts immunity and strength in an individual. It is also the best super food for women's health as it helps women fight women-specific problems and diseases.
A powerful nervine tonic– Good health of the immune system is vital for the overall health and functioning of an individual's body. Ashwagandha and other herbs present in the Ashwprash help improve the nervous system of the body, which facilitates blood circulation and improves the levels of blood in the body. Consequently, the body is free of multiple problems caused by poor blood flow, such as migraines, heart attacks, paralysis attacks, etc.
Reduces Cholesterol and blood sugar levels– Two of the most famous lifestyle diseases in the present era are high cholesterol and high sugar or diabetes. If not controlled, these problems can cause adverse effects on the body and its organs and can convert into sever ailments. Ashwprash helps to reduce the sugar and cholesterol levels in the body, which helps maintain the health and proper functioning of the body.
Detoxifies the body – Ashwprash is a rasayan which is rich in antioxidants and offers advantages to the body in multiple facets. The antioxidants help remove toxins from the body and its organs, facilitating their proper functioning and health.
Packing Details

Ashwprash is packed in very beautiful and special glass jar with gold lid and packing size is 250gm.
Care Instructions

Suggested Use of Ashwprash 10-15gm twice a day after food for adult.
View full details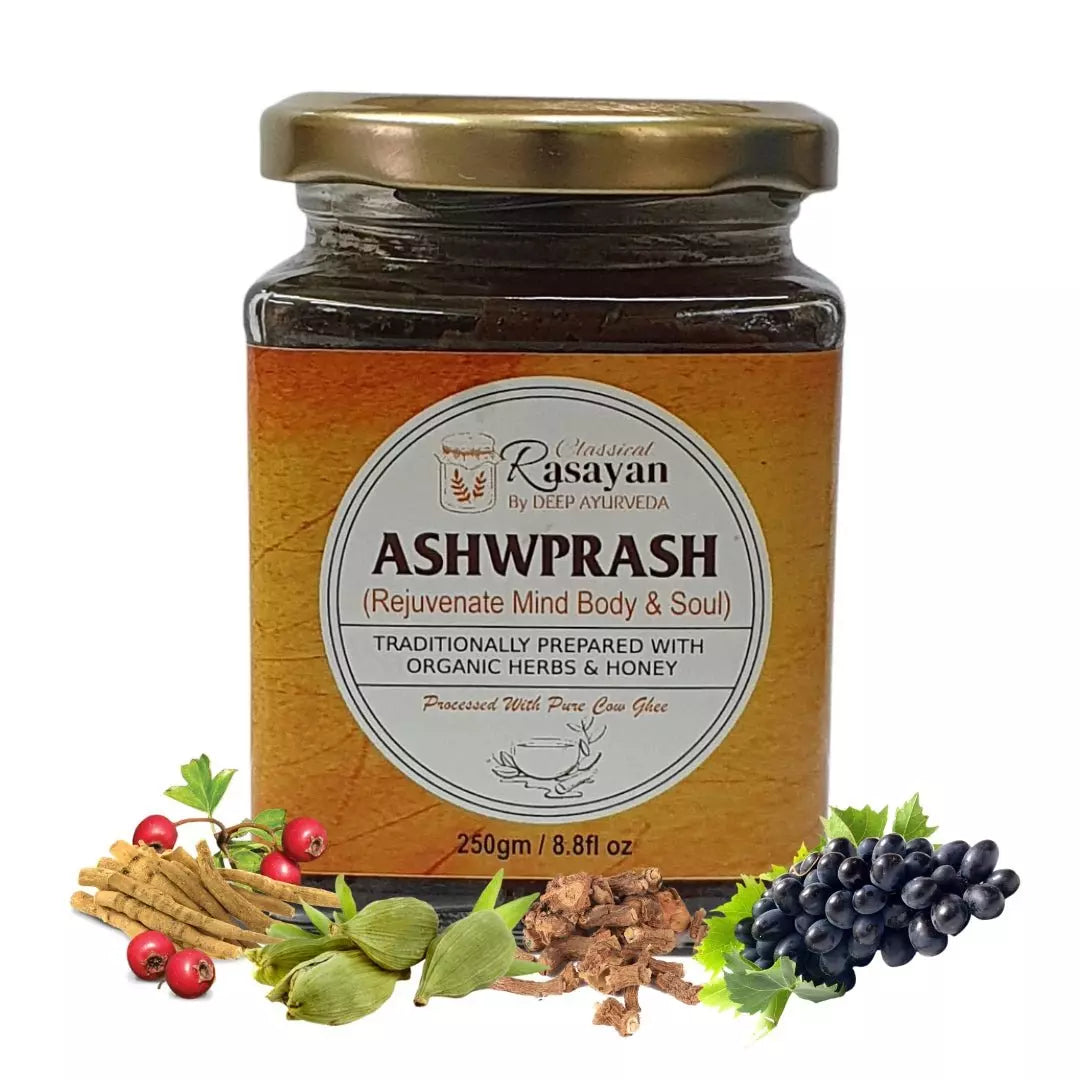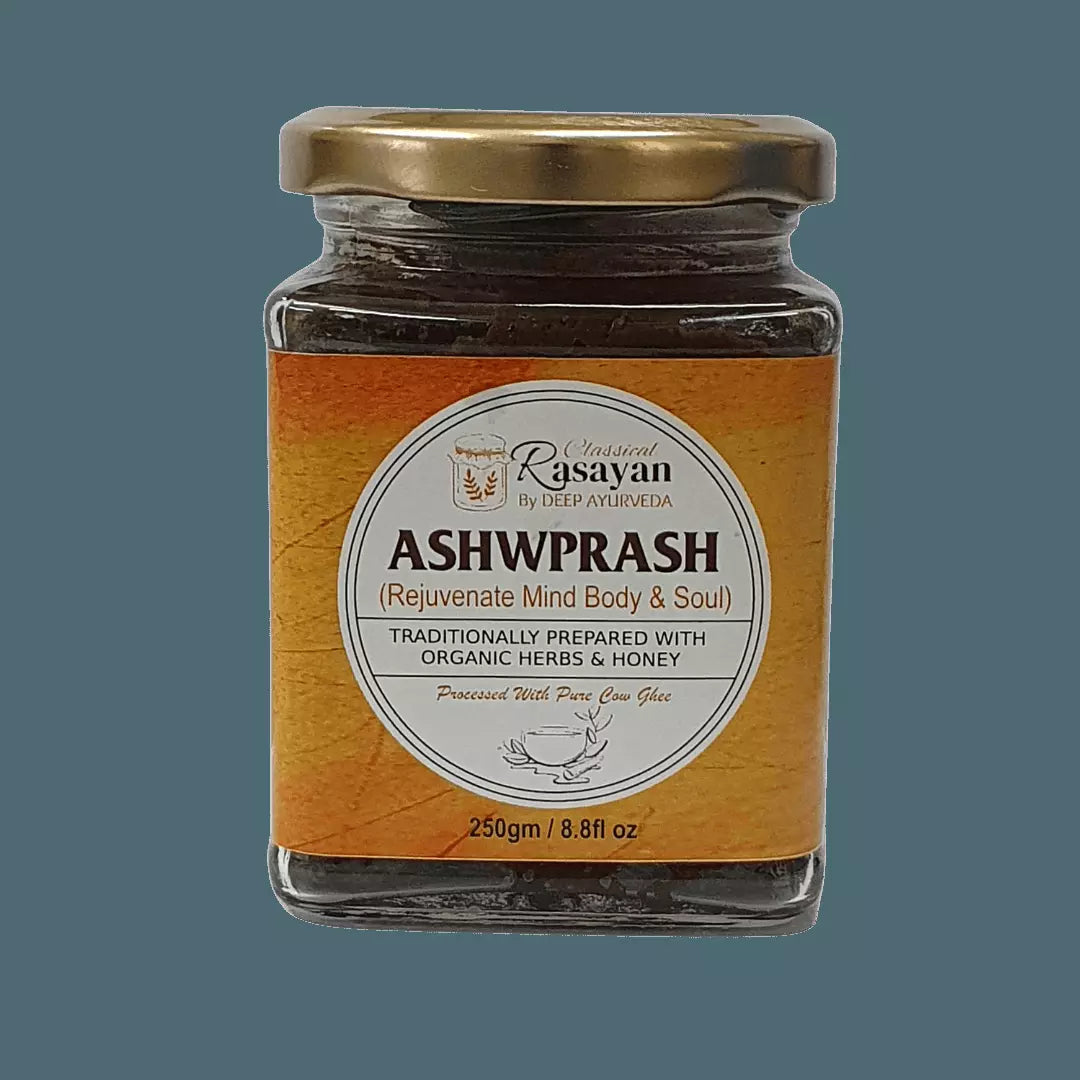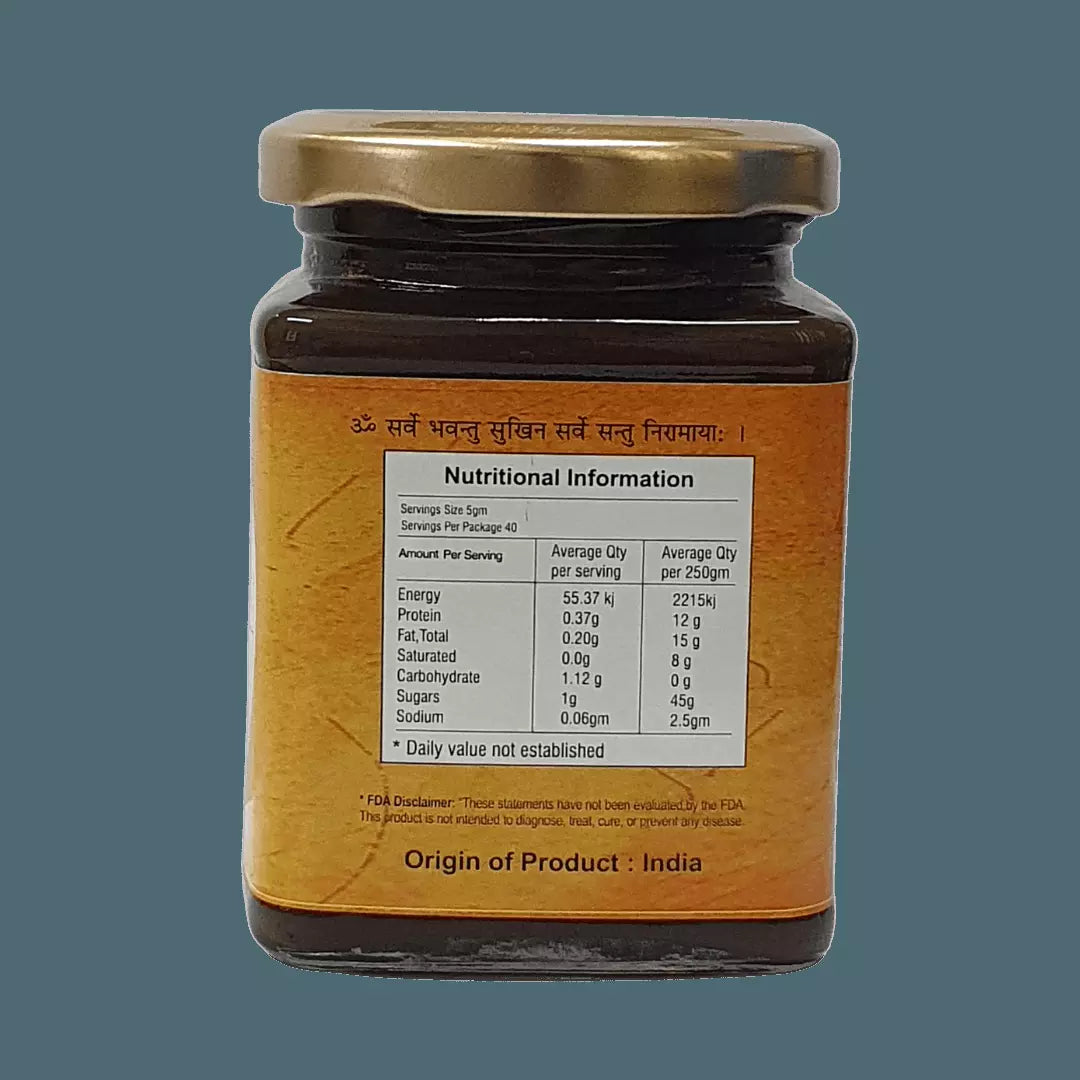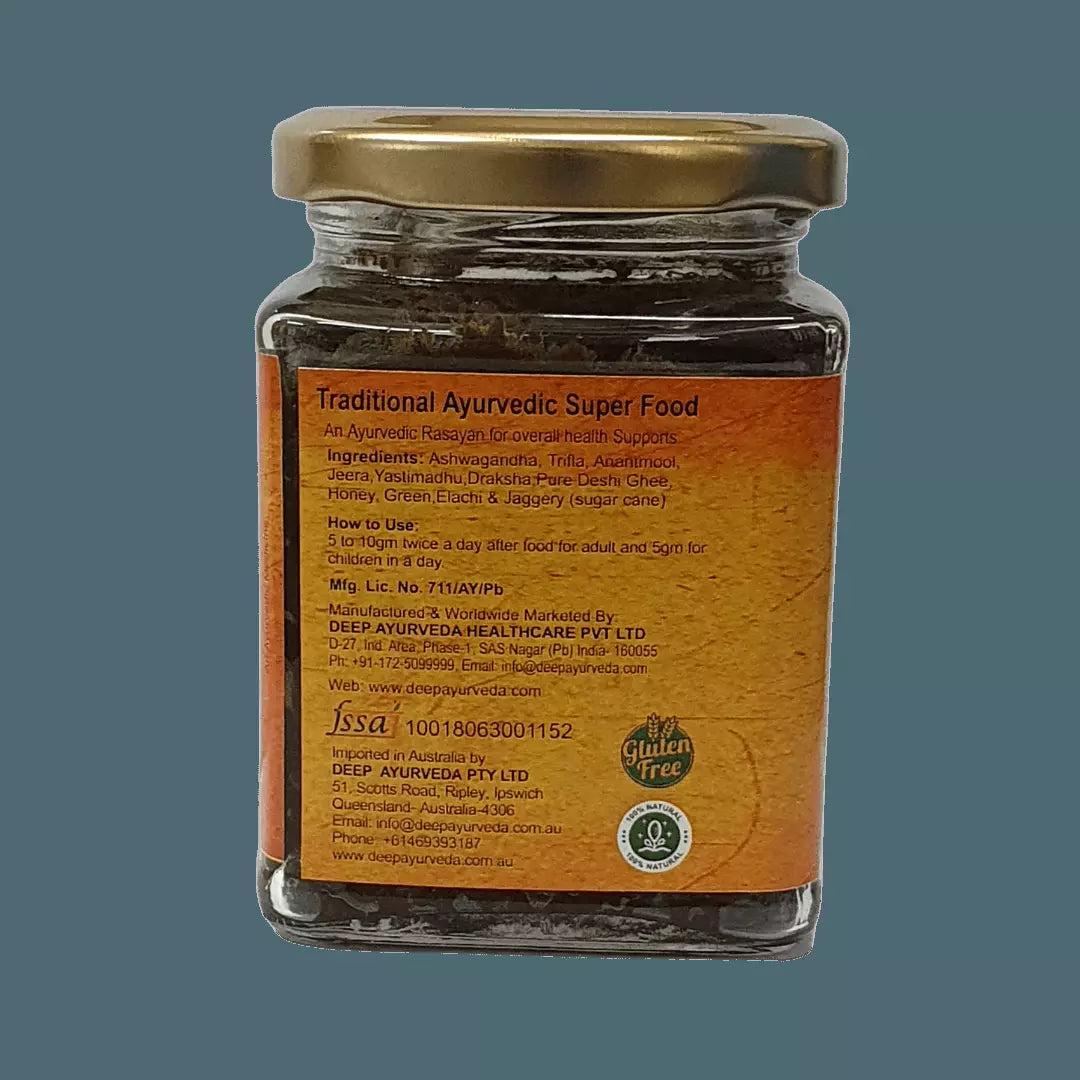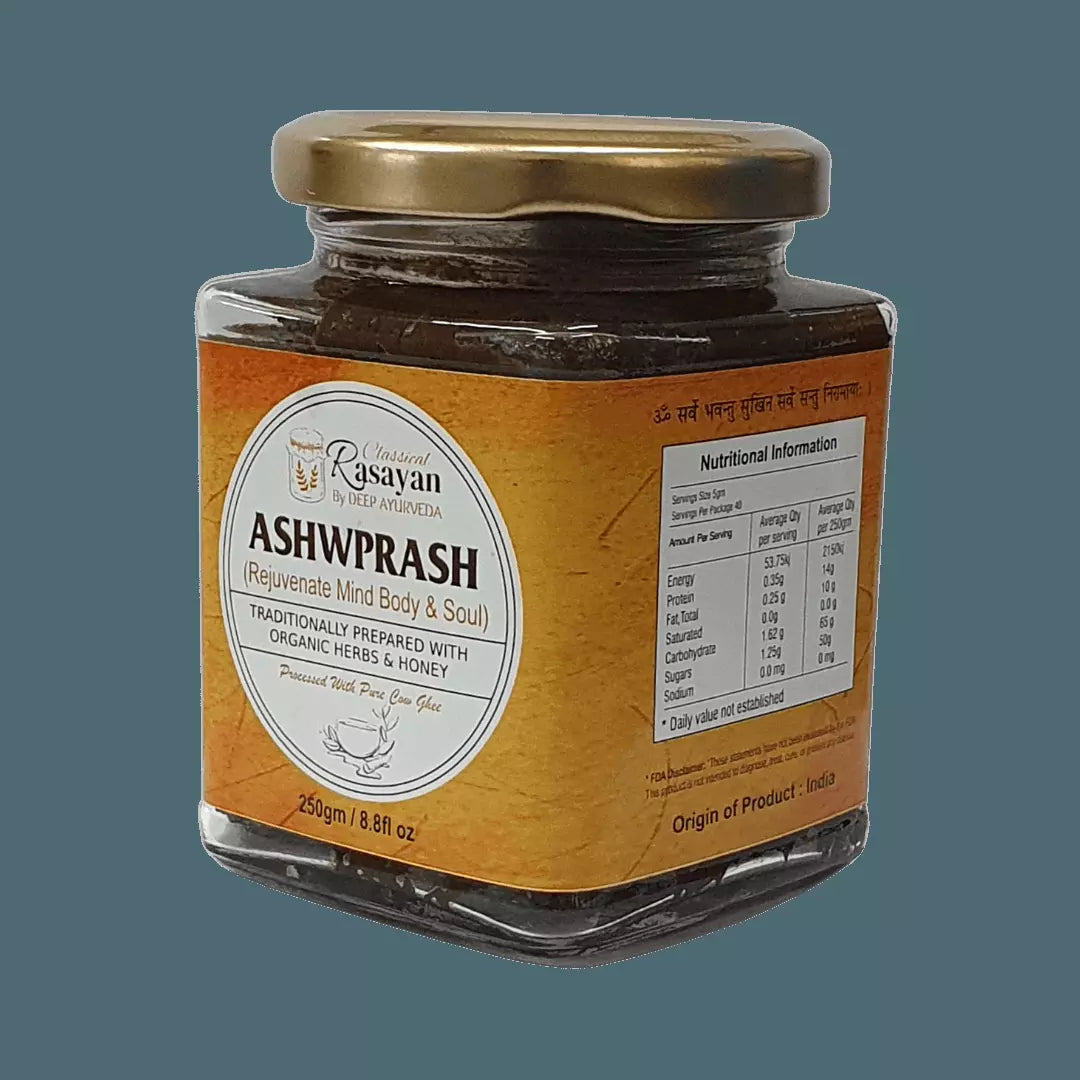 Good
Taste itna acha nhi tha but product thik hai.
Good to buy
I didn't like the taste but I felt its good effect on health.
Good Choice
Maine last month Ashwprash kharida tha. Meri family ko yeh bahut pasand aya. Worth for money...
Best Product
Healthy & tasty. Liked by my elders too.
Best Product
I am really satisfied with this product.