Regular price
Rs. 7,596.00 INR
Regular price
Rs. 11,196.00 INR
Sale price
Rs. 7,596.00 INR
Unit price
per
Sale
Sold out
Ayurvedic Superfood pack for entire family. Just one teaspoon daily and keep us healthy and energetic. Add goodness of ayurveda in daily diet of your family and give them shield traditionally prepared ayurvedic superfood which made with plant-based ingredients, pure ghee and jaggery. Good in taste and enriched with healthy properties.
One Pack of 250gm Vajayu for men's health , One Pack of 250gm Nariprash for women health and One Pack of 250gm Kalyankam for Kids health. 
Current Food & Lifestyle for health?

The world today is the victim of multiple new diseases, which are being borne from our own surroundings and its elements such as air, water, food, etc. The latest example is the atrocities Corona Virus has posed on people worldwide. Such diseases and ailments are very strong and can hinder the well-being and growth of an individual's body.

However, the biggest problem that a human can ever face is weak immunity. The immunity within the humans is the shield which safeguards the bodies from potential risks, such as viruses, bacteria, fungus and other harmful risk factors. Therefore, if your immunity is strong, you need not worry about catching a disease. However, if your immunity is weak, every disease might affect you badly.

The foods and the intake humans have today are merely nutritional and are incapable of offering them the strength and the immunity they need to fight diseases. In this case, Shudhprash by Deep Ayurveda is something that you can count upon organic chawanprash online.

Current Food & Lifestyle for health?

Why we need to use Chawanprash in our daily routine ?

Why Choose Shudhprash-A Real Organic Ayurvedic ChawanPrash ?

Nutritional Information

Why You Trust on ShudhPrash ?

Key Benefits

KEY INGREDIENTS

Shipping & Returns

Packing Details

Care Instructions

(2total reviews)Customer ReviewsBased on 2 reviewsWrite a reviewit is truly amazing chywanprashVishakhaonDec 11, 2022

I recently tried Shudhprash Organic Chywanprash and I have to say, it is truly amazing! I love the fact that it is made with only organic ingredients, so I know I'm getting the best quality possible. The taste is amazing and it has a great balance of sweetness and spices. It also has a ton of health benefits, so I'm sure I'm getting all the vitamins and minerals I need. Overall, I think it's a great product and I would definitely recommend it to anyone looking for an organic chywanprash.

Thank you for taking the time to share your experience with Deep Ayurveda. We are delighted to hear that you had a positive experience and appreciate your kind words. We value our customer feedback and strive to provide the best possible care and service. We look forward to serving you again in the future.

- Deep AyurvedaReport as InappropriateOrganic Product by Deep Ayurveda.Harjinder SinghonDec 06, 2022

I really want to prefer

Report as InappropriateAyurvedic Super Food (Prash)

Special Prash range for all Age & Gender :

✅️ Why you choose Prash ?

👉 Natural Source of Nutrition

👉 Boost Over All Health

👉 Balance our Tridosha

👉 Give Strength & Immunity

👉 Ayurveda in Daily Routine

👉 Prevent Seasonal Disease

Who We Are

Shipping Terms

DEEP AYURVEDA ®Mission

Our Mission is to promote genuine & authentic Ayurved at every home and to spread the miraculous healing power of Ayurveda for the betterment of society and to maintain good health. To maintain the highest ethical standards and integrityat every level of our organization.

Subscribe to our emailsEmail

Payment methods

© 2022,Deep AyurvedaPowered by ShopifyProduct informationShudhPrash-Real Organic Chawanprash | Classical Rasayan Enriched with Kesar & Gold

Pack: 1 Pack Of 250 Grams

Deep Ayurveda Industrial Area Phase 1

ShudhPrash-Real Organic Chawanprash | Classical Rasayan Enriched with Kesar & Gold - 1 Pack of 250 Grams(2total reviews)Buy NowRs. 699.001 Pack of 250 Grams2 Pack of 250 GramsPack1 Pack of 250 Grams2 Pack of 250 Grams
Why we need to use Chawanprash in our daily routine ?

The Shudhprash ayurveda chawanprash is rich with the goodness of Swarn Bhasam, Rahat Bhasam, Saffron and Almond. It is prepared traditionally by blending the best organic herbs with jaggery and honey to make it a healthy option for diabetic and fitness enthusiast customers.

The Shudhprash organic chawanprash online is immunity support for all age groups and has zero side effects. It is low in calories, with no added sugar, and helps sustain a healthy diet. It also supports the digestive system and helps nourish the brain cells. The Classical Rasayana Shudhprash by Deep Ayurveda is everything you need for the comprehensive strength and well-being of any individual.

Intaking Shudhprash every day rejuvenates the body and the mind and strengthens the powers of the muscles, bones, ligaments and tissues and cells. It is an organic chawanprash for immunity that helps you strike the perfect balance between the body and the mind.

Some of the problems which the Shudhprash can help you fight against include-

1. Cough- Cough and cold are quite prevalent ailments, which often inflict upon people with weather change, dust, allergies or any other reason. In Ayurveda, it is known as Kapha disorder. Shudhprash ayurvedic chawanprash has the Rasayan property, which helps it remove the mucus stuck in the respiratory tract, causing cough.

2. Asthma– Shudhprash relieves symptoms of breathlessness. The condition of Asthma is known as Swas Roga in Ayurveda. Shudhprash balances Kapha and removes excess mucus from the lungs.

3. Infections- Infections such as cough, cold, allergic rhinitis etc., which are mostly caused due to change in weather are cured by Shudhprash. The Rasayan property of Shudhprash strengthens immunity to fight against such infections.

4. Malnutrition– The Karshya disease in Ayurveda is the cause of Malnutrition, as it causes lack of nutrients and improper digestion. Regular intake of Shudhprash-Real Organic Chawanprash fights malnutrition and fulfills the calorie requirement of the body.

5. Poor memory- Poor memory is often the result of Vata Dosh. Shudhprash balances Vata and comes with the Medhya property that improves intelligence in the concerned person.
Why Choose Shudhprash-A Real Organic Ayurvedic ChawanPrash ?

Let's us now read about the enriching elements added in the Shudhprash ayurvedic chawanprash which make it an best immunity booster for adults and children.

Power of Pure Ghee and Honey- Shudhprash is rich in ingredients such as real pure ghee and honey. They offer you the strength, stamina and power you need to fight diseases, making Shudhprash the best chawanprash for immunity.   
Tastiest Ayurvedic Chawanprash- Often Chawanprash isn't liked, especially by the kids, But due to the natural aroma of organic ingredients Shudhprash has a taste that suits the tastebuds of the elders as well as the children. This makes it the best chawanprash for adults and children, making it easy for parents to make their children consume it for good health!  
Added Swaran Bhasam- Swarab Bhasam is known as an most precious metal and lot of benefits mentioned in our classical ancient text of ayurveda and it having lot of medicinal benefits, Also helps enhance the immune system and metabolism in the body. Shudhprash is an ayurvedic medicine for immunity that comes with the goodness of Swaran Bahsam that heals the body from unprecedented diseases and wounds.
Made with a blend of more than 40+ pure herbs- You will get the goodness of 40+ advantageous organic herbs in a single spoon of Sudhprash.  
5 Star Reviews from our customers! – Every customer that consumes Shudhprash starts experiencing the health benefits in a few weeks. Our immense customer base and their reviews tell everything about the goodness of the best chawanprash for adults – Sudhprash.  
Nutritional Information

Sudhprash-Real Organic Chawanprash is a complete package of the most essential nutrients, vital for the overall growth and development of an individual's body. The nutrition information of Shudhprash ayurveda chawanprash is mentioned below (in average quantity for 250 gm) 

Energy – 2625 kJ 
Protein- 10 g 
Fat- 10 g 
Saturated Fat- 0.0 g 
Carbohydrate- 50 g 
Natural Sugar- 80 g 
Sodium- 5 mg 
Why You Trust on ShudhPrash ?

VEGETARIAN FRIENDLY

Shudhprash is completely vegetarian. It is made out of the most authentic natural herbs and plants. It is suitable for every person to consume and is the best chawanprash for adults and children. 

GLUTEN-FREE

We ensure that our products come with no side effects for the consumer. Therefore, unlike all other Chawanprash, our Shudhprash is completely Gluten-free and the best chawanprash for adults. It is made of gluten-free elements to ensure its purity and ease of digestion for the consumer

SOY FREE

 Shudhprash is free of soybeans and their by-products. This makes it consumable for people with dietary allergies and removes the chances of allergic problems like acne, asthma, eczema, etc.

NO ADDED COLOR OR FLAVOR

Added colour or flavor is used in products often to enhance the look of a product and is often harmful to a person. We guarantee that our products are completely free of added color or flavor in any form.

NO ARTIFICIAL PRESERVATIVES

To increase the shelf-life of a product, companies often add synthetic preservatives to those that are very harmful. The Shudhprash by Deep Ayurveda has no added artificial preservatives, which makes it natural and harmless, and a natural immunity booster for women as well.

NO ARTIFICIAL SWEETENER

ShudhPrash is 100%  made with organic jaggery and no artificial sweetener added, But Most of the similar product available in market even by big companies are made with artificial sweetener like aspartame, saccharin, acesulfame-K [E950], neotame, sucralose [E955]) and advantame etc. You know these artificial are very much harmful for our health and specially for growing children. Study published in many international journals shown that these artificial sweeteners are carcinogenic and even can be cause of neurological disorder even.

NO CHEMICAL OR UN NATURAL SUBSTANCE

There is no chemical or un natural substance and its Completely Natural- Shudhprash is curated with years of research and the hard work of our ayurvedic experts and scientist. We aimed to ensure that only the most authentic organic ingredients are used to make it completely natural. 

WHY SHUDHPRASH IS SO SPECIAL AND WHY WE TELLING IT A REAL ORGANIC CHAWANPRASH? LETS HAVE A LOOK ON KEY INGREDIENTS USED IN SHUDHPRASH

40+ Organic Herbs, Precious's Metals, Organic Jaggery, Honey & Processed in Pure Organic Ghee
Key Benefits

Let us now read the ways in which Sudhprash can help you.

Boosts Immunity– Shudhprash is the best chawanprash for immunity which contains the vitamins, minerals, antioxidants and immuno modulators which strengthen the immune system. They increase the quantity of immune cells in the body, such as white blood cells and macrophages, which destroy harmful microbes.
Boosts Digestion– Karitaki, Nagakesar, etc. other ingredients in Sudhprash improve digestion by improving lipid and protein metabolism. The taste of Sudhprash stimulates the gastric juices production, thus facilitating digestion.
Promotes Gut Health– Shudhprash assists in the removal of partially digested food and toxins and offers relief from problems such as peptic ulcer, nausea, abdominal pains, gastritis, cramps, etc.
Supports Anti-Ageing– Shudhprash-Real Organic Chawanprash is rich in herbal antioxidants which make Shudhprash a natural anti-ageing solution. It slows down tissue and cell degeneration and removes harmful radicals created during metabolism.
Natural Dietary Supplement– Shudhprash provides the body with all the essential micronutrients such as minerals, vitamins, fatty acids and proteins, that are required to stay healthy.
Strengthens Respiratory Health– The respiratory system and all its components (including trachea, bronchioles, bronchial tubes, etc.) are nourished by Sudhprash, eliminating problems such as asthma, running nose, rhinitis, etc.
Overall Rejuvenation– The Saptasadhus of the body, including Rasa (plasma), Rakta (blood), Meda (adipose tissues), Asthi (bones), Mamsa (muscle), Majja (bone marrow) and the Shukra (reproductive Cells)- all are rejuvenated by regular consumption of the Sudhprash.
Better Reproductive Health– Ashwagandha, Gokshura, Shati and Bala are the ingredients found in Sudhprash, that strengthen the reproductive system.
Provide Balance to Mental and Physical Health– While the antioxidants in the Shudhprash Chwaanprash For Immunity eliminate cell and tissue degradation, the adaptogens help balance mental and physical health. The cow ghee in the Shudhprash protects the nerves and helps enhance memory.
KEY INGREDIENTS

WHY SHUDHPRASH IS SO SPECIAL AND WHY WE TELLING IT A REAL ORGANIC CHAWANPRASH? LETS HAVE A LOOK ON KEY INGREDIENTS USED IN SHUDHPRASH 40+ Organic Herbs, Precious's Metals, Organic Jaggery, Honey & Processed in Pure Organic Ghee

FRESH AMLA

Phyllanthus emblica

GREEN ELAICHI

Elettaria cardamomum

BILWA

Aegle armelos

PUNARNAVA

Boerhavia diffusa

MUSTAK

Cyperus rotundus

GAMBHARI

Gmelina arborea

SHATI

Hedychium spicatum

JEEVANTI

Leptadenia reticulata

KAMAL GATT

Aelumbo nucifera Gaertn

SHYONAKA

Oroxylum indicum

BHUMI AMLA

Phyllanthus niruri

AGNIMANTHA

Premna serratifolia

BALA

Sida cordifolia

KANTAKARI

Solanum virginianum

HARITAKI

Terminalia chebula

GOKSHURA

Tribulus terrestris

VIDARIKAND

Pueraria tuberosa

DRAKSHA

Vitis Vinifera KESAR

Saffron

BADAMGIRI

Almond

SESAME OIL (VIRGIN)

Sesamum indicum

ORGANIC GUD

Organic Jaggery

ROSE

Rosa

VASAKA

Justicia adhatoda

AGARU

Aquilaria malaccensis

KARCHUR

Curcuma zedoaria

SHALAPAMI

Desmodium gangeticum

RIDDHI

Habenaria intermidi

PUSHKARMOO

LInula Racemosa Hook

KAKANASIKA

Martynia annua Linn

KAKOLI

Roscoea purpurea

MUDGAPARNI

haseolus trilobus

MAHAMEDA

Polygonatum cirrhifolium

LAL CHANDAN

Pterocarpus santalinus

BRIHATI

Solanum indicum

MADHAPARNI

Teramnus labialis

GUDUCHI

Tinospora cordifolia

PRISHNAPARNI

Uraria picta

PIPPALI

Piper longum

NAGKESAR

Mesua ferrea

SWARAN BHASMA

Incinerated gold

PURE GHEE

clarified butter

SUDH HONEY

Apis mellifera

MINERAL WATER

D.M. Water
Shipping & Returns

All over India Shipping by courier and cash on delivery also available.

International Shipping by DHL Express
Packing Details

ShudhPrash is packed in very beautiful and special glass jar with gold lid and packing size is 250gm and 500gm.
Care Instructions

Suggested Use of SHUDHPRASH 10-15gm twice a day after food for adult and 5-10gm in day for children between 5 to 10 years
View full details
What a great option to add ayurveda in daily routine.. thanks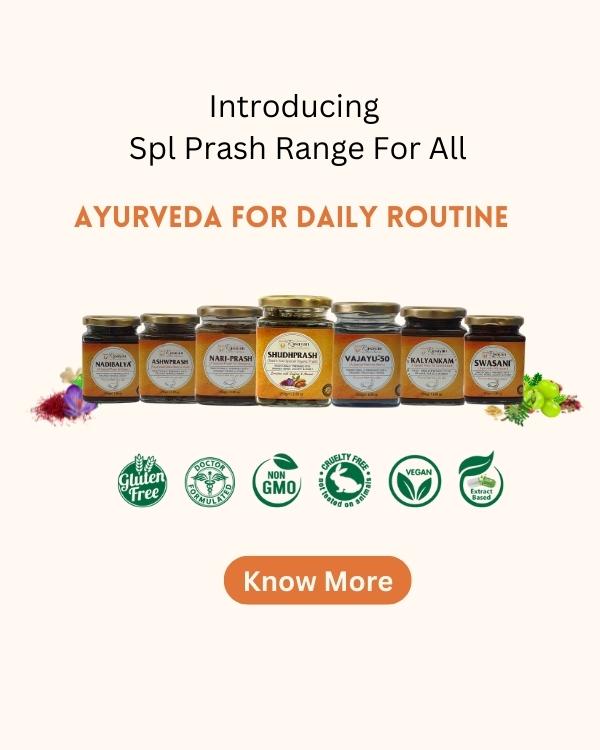 Ayurvedic Super Food (Prash)
Special Prash range for all Age & Gender :
✅️ Why you choose Prash ?
👉 Natural Source of Nutrition
👉 Boost Over All Health
👉 Balance our Tridosha
👉 Give Strength & Immunity
👉 Ayurveda in Daily Routine
👉 Prevent Seasonal Disease